Solar Powered Plane Soars Over the Golden Gate Bridge
: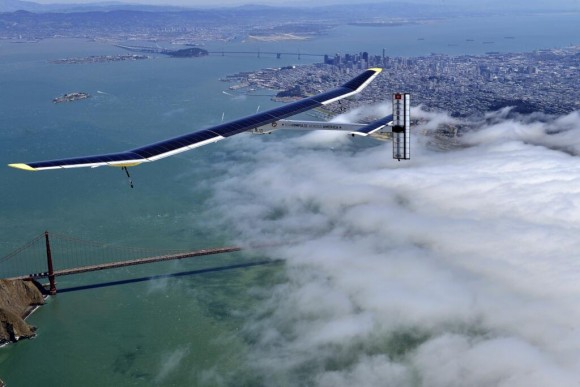 The Solar Impulse airplane flies over the Golden Gate Bridge on April 23, 2013. Credit: Solar Impulse.
The world's first solar-powered plane is stretching its wings over the US. Today it took off from Moffett Field in Mountain View, California — the home of NASA's Ames Research Center – and flew to San Fransisco, soaring over the Golden Gate Bridge.
Starting on May 1, Solar Impulse will fly across the US to New York, making several stops along the way as a kind of "get to know you" tour for the US while the founders of Solar Impulse, Swiss pilot Bertrand Piccard and and pilot Andre Borschberg, want to spread their message of sustainability and technology. You can read about the cross-country tour
here on UT
and also on the
Solar Impulse website.
You can follow
Solar Impulse's Twitter feed
for the latest news of where they are.
---
© nancy for
Universe Today
, 2013. |
Permalink
|
One comment
|
Post tags:
Solar Impulse
,
solar power
,
Technology
Feed enhanced by
Better Feed
from
Ozh