Surprising Third Radiation Belt Found Around Earth
: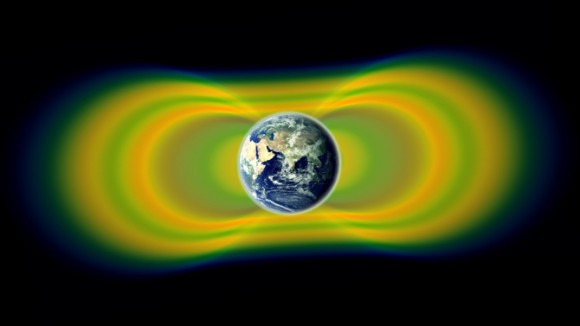 Two giant swaths of radiation, known as the Van Allen Belts, surrounding Earth were discovered in 1958. In 2012, observations from the Van Allen Probes showed that a third belt can sometimes appear. The radiation is shown here in yellow, with green representing the spaces between the belts. Credit: NASA/Van Allen Probes/Goddard Space Flight Center
In September of 2012, scientists with the newly launched Van Allen Probes got permission to turn on one of their instruments after only three days in space instead of waiting for weeks, as planned. They wanted to turn on the Relativistic Electron Proton Telescope (REPT) so that its observations would overlap with another mission called SAMPEX (Solar, Anomalous, and Magnetospheric Particle Explorer), that was soon going to de-orbit and re-enter Earth's atmosphere.
Now, they are very glad they did, as something happened that no one had ever seen before. A previously unknown third radiation belt formed in the Van Allen Radiation Belts that encircle Earth. The scientist watched – in disbelief – while their data showed the extra belt forming, then suddenly disappear, like it had been cut away with a knife. They have not yet seen a recurrence of a third belt.
(...)
Read the rest of
Surprising Third Radiation Belt Found Around Earth
(796 words)
---
© nancy for
Universe Today
, 2013. |
Permalink
|
No comment
|
Post tags:
Van Allen Belts
,
Van Allen probes
Feed enhanced by
Better Feed
from
Ozh